Kupi i prodaj kriptovalutu sa najvećim platnim servisima, Skrill i Neteller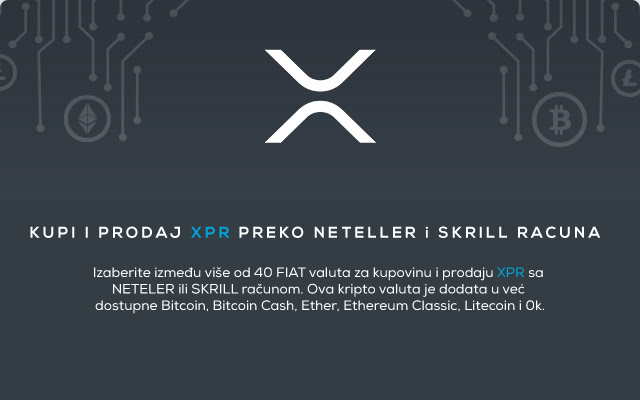 Pored  Bitcoin (BTC), Bitcoin Cash (BCH), Ether (ETH), Ethereum Classic (ETC), Litecoin (LTC) and 0x (ZRX), od 21. decembra Skrill i Neteller, članovi PaySafe grupe su uveli i Ripple (XRP) u svoj sistem plaćanja tako da veoma lako možete kupovati i prodavati ove kriptovalute. Vremenom će dodavati nove i to će biti objavljeno ovde kada se desi.
Sa preko 100 depozit metoda možete da kupite ili prodate Bitcoin, Bitcoin Cash, Ether, Ethereum Classic, Litecoin, 0x ili XRP.
Provizije za trgovanje kriptovalutama su 1,5% za USD i EUR, dok su za ostale valute 3%.
Važno je znati da su transakcije skoro trenutne. Jedna do dve sekunde, i da ne moraš da trguješ samo sa EUR i USD već i sa svojom lokalnom valutom.
Za one koji više vole da za trgovanje koriste mobilne telefone, postoje aplikacije za Androide i IOS. Sve možete trgovati 24/7 bilo sa kompa ili sa mobilnim telefonom i pogledaj i ovaj članak ako te interesuje brza zarada od kuce Profit je 7.2% dnevno.