Rebelbetting je upravo lansirao web aplikaciju za ValueBetting. Od sada može da se koristi program za Value betting lako i brzo putem mobilnih telefona, tableta ili deskotopa.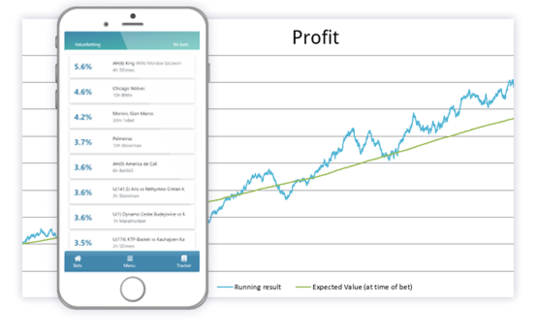 Budi među prvim korisnicima i iskoristi diskontnu cenu!
Benefiti Rebelbettingovog ValueBetting mobilnog sistema
Korišćenje sa mobilnim, tabletom ili desktop računarom.
Bet on the go
Bez instalacije
Logovanje jednim klikom
Prati svoj profit sa novom Bet Tracker alatkom
Cena je redukovana za rane korisnike, pa ako želiš da probaš sigurno klađenje, pravo je vreme
Value Betting Web

Jedan mesec

$49

mesečno
Value Betting Web

Godišnja članarina

$24

Ispada mesečno

$294

Godišnje

300% profit za 3 meseca
Komentari korisnika
It really works. I started with a bankroll of 700 Euros three weeks ago and now I am over 2000 after only 750 bets!
Jesús, Spain, ValueBetting software user.
Jedan od najboljih softvera za praćenje mečeva za sigurno klađenje i siguran profit u kladionici je RebelBetting pa pogledaj kompletnu ponudu.